Space Utilisation Technology
Room Utilisation for Universities and HVAC Control
TPS Traffic and Parking Systems supplies and installs Space Utilisation and Space Auditing Software for Universities and organisations seeking to make improvements on the use of space in their lecture rooms and commercial space.
TPS Traffic and Parking Systems Pty Ltd has developed a world first Space Auditing System with the University of Technology Sydney (UTS). The system integrates data from the University's Sylabus Plus timetabling system and our highly accurate people counting sensors to report on room usage based on the TEFMA standards and terminology.
We have further developed this system to integrate the data collected by our people counting sensors with the Heating, ventilation and air conditioning (HVAC) systems to provide real time management and reduction of power use in all rooms fitted with our space utilisation system. Our University customers have achieved substantial reduction in energy use for these spaces.
University of Technology Sydney (UTS) Case Study
In October 2011, Bryce Hutchinson, Senior Building Information Officer, from the Facilities Management Operations department of the University of Technology in Sydney approached TPS with a proposal to use people counters to automate reports of space utilisation/room usage in the University.
At the time, all room usage monitoring was done by contracting a number of people with clipboards to visit every room and count the number of people in it on the hour every hour for the full day usage, over a week. The data was then entered into a database, and a set of reports was produced. These showed Frequency, Occupancy and Utilisation for each room, and for groups of rooms (such as 'medium- sized lecture theatres', or 'classrooms')..................
Click here to download the entire UTS Case Study PDF
Desk Monitoring Sensors
TPS Traffic and Parking Systems supplies and installs Workspace Utilisation Sensors and Workspace Monitoring Systems for companies seeking to make improvements on the use of space in their commercial premises, this can easily be combined with our other people counting systems such as our Pedestrian Counting Sensors and our Reporting Software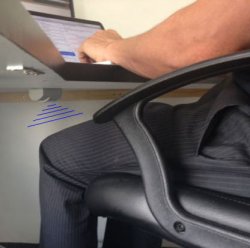 Using wireless desk sensors and thermal people counting sensors, our Workspace Utilasation system is able to log the period that a desk or workspace has detected occupancy. The desk occupancy data is used to determine the Workspace efficiency and to allow organisations to make decisions on reductions in floor area needed in new office developments or existing workspaces.
Our Room Utilisation System is also integrable with a number of room scheduling platforms used by Universities around Australia. This knowledge of the utilisation of rooms booked by lecturers allows the Universities to manage their room usage and to ensure that rooms are not being underutilized by lecturers overbooking space.
By making sure that lecturers are not overbooking rooms, or in business situations, that conference rooms and offices are not being overbooked, you can even save lots of energy by being able to track where most people are when the Workspace utilisation sensors are combined with other TPS People Counting Systems, this can be accomplished with the desk sensors and the workspace utilisation sensors
TPS Wireless Desk sensors are mounted on the underside of a desk, the wireless desk sensors communicate wirelessly to the Wirelss Desk Sensor Receiver which is powered over POE and communicates back to the server with TPS Room Occupancy Optimisation Software installed.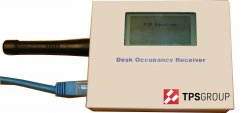 The TPS Wireless Desk Sensors are powered with a long life Lithium battery making deployment for long term studies possible.
For more information on our Room Utilistation Systems,Workspace Utilistation Study Systems and please contact us at sales@trafficparking,com.au or Phone 1300 997 026
TPS Wireless Desk Sensors
TPS Wireless Desk Sensor Receivers
TPSV03 Thermal Room Counting Sensors
TPS Room Utilisation Software
TPS Workspace Utilisation Software