TPS Traffic and Parking Systems Pty Ltd supplies and installs a large range of people counting products and continues to lead the way in pedestrian counting technology using the very best in Thermal and video-based technology.
Get a quote for a people-counting system:
What is a People Counting System?
A people counter is an electronic device that tracks the number of people passing through a particular area. The systems are often used in retail settings to help store owners understand foot traffic patterns and make decisions about staffing levels and store layout.
They can also be used in public spaces to monitor crowd size, flow, optimise labour, and even define advertising efficiency. In short, a people counting system is a versatile tool that can significantly impact both businesses and individuals.
How Does a People Counter Work?
If you've ever been to a busy store or shopping centre, you may have noticed a small device mounted near the entrance. These are sensors that detect the movement of people through the doorway. Our people counters utilise thermal-based technology, as the accuracy is much higher than other forms of detection.
The data from the sensor is then transmitted to a computer, which keeps track of the number of people who have entered or exited the area or store.
The privacy of everyone who enters and exits that specific area is guaranteed because no personally identifiable information is collected. Their accuracy is very high, often exceeding 99%.
Where is a People Counter Used?
A people counter is used in an area where it's desirable to understand how many people move through a space, typically shopping centres, retail stores, public transportation, commercial spaces, business offices, universities, schools, and more.
Store owners will often position them to track customer traffic and identify which store areas are the most popular. Knowing where customers go can be essential for maximising sales and profits in retail.
Similarly, administrative planners use these devices to forecast the number of people using a bus or train line, among other public transportation.
Universities and schools can use them to optimise timetabling as well as automatic energy use to cut wasted expenditure.
Ultimately, people counters can used anywhere where valuable insights are wanted into how people move through space, making them an essential tool for anyone who needs to maximise efficiency and minimise congestion.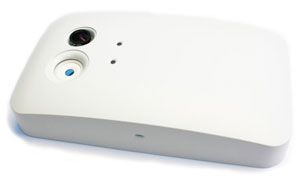 TPS Thermal People Counter Sensor
TPS Traffic and Parking Systems have supplied and installed the world's most advanced people counting technology into Australia's leading retail stores and commercial premises. Using thermal people counter sensor technology and data analytics software, TPS provides one of the most accurate and informative systems available on the market at an affordable price.
TPS V04 Thermal People Counter Sensor
The TPS VO4 is a modern thermal people counter equipped with IP connectivity for direct connection to LAN-based systems. This allows remote configuration and data counting using IP infrastructure and browser-based applications.
Our team of experts has installed the V04 people counter system in several of Australia's major businesses and commercial locations. TPS can provide a device that suits all your requirements, whether you want to install it on a door, airport, parking lot, or general commercial premises.
Why Should you Choose the TPS V04 Thermal People Counter
Opening Capability up to 8 units
Low installation and maintenance costs
Built-in data logging Direct IP Connectivity
Remote setup for local or remote configuration
Remote camera to audit the counting in real time
TPS People Counter Cloud Reporting Software
Our cloud-based reporting software gathers all of your sales data and the information from your people counting system. The TPS cloud-based people counting reporting software gives you comprehensive visitor trends, sales conversion percentages, and other insights into your business.
Customer counting technology has long been one of the strongest marketing tools available to a retailer. The increased accuracy and ability to drill down reporting into minute increments, all from a cloud based reporting server, is what now makes people counting a necessity for any serious retail or commercial business.
Measure increases in customer traffic
Measure sales conversion rates
Plan staff hours based on hourly and daily trends
People Counter Applications
The TPS People Counter System offers a range of software suites to suit numerous applications. The necessity for highly accurate people traffic and occupancy is vital for many industries, these include;
People Counters for Retail Industry
People Counters for Shopping Centres and Developers
Airport Passenger Counting
People Counters for Casinos
People Counters for Hospitals
People Counters for Commercial Office Buildings
People Counting Systems for Universities & Schools
Pedestrian Counting Surveys
TPS now offers cloud-based customer counting reporting for your customer counting statistics. Data from our Thermal People Counters are pushed to our cloud reporting platform so that our clients can simply log in to an online portal to access daily, weekly and monthly people counter statistics.
We also offer data hosting for our Thermal People Counters; this enables us to monitor the sensors in real-time and provide a quick maintenance response ensuring 100% data integrity and upload.